Welcome to Steph's Swimmers!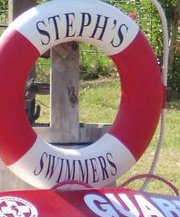 Hello and Welcome back! Oh, how I have missed my little swimming buddies and parents.
To my new parents and future students, Welcome! It is so exciting to look forward to meeting you and working with you. I will work hard to help you achieve your swimming goals, to the best of my ability.
John 15:5 (KJV) I am the vine, ye are the branches: He that abideth in me, and I in him, the same bringeth forth much fruit: for WITHOUT ME YE CAN DO NOTHING.
Steph's Swimmers provides swimming lessons designed to help all ages and all levels of swimming. Swim classes are centered around helping you develop water safety, survival, and swim skills. Steph's Swimmers is located in a spectacular East Texas country setting. Lessons are taught by Water Safety Instructor, Stephanie Gurley, and her elite team of qualified assistants. Stephanie Gurley is an American Red Cross Certified First Aid, CPR (cardiopulmonary resuscitation), AED (automated external defibrillator) Water Safety Instructor, and a Certified Special Olympics Coach. Steph's Swimmers is equipped with an ADA compliant aquatic Pro Pool Lift, to assist the handicapped.
I hope you enjoy browsing through the website. Please feel free to click on 'Contact Me' tab for further questions.
See ya, Soon!
Please click here for more information on the aquatic Pro Pool Lift by Aqua Creek Products.